Frozen NZ Diamond Clams Whole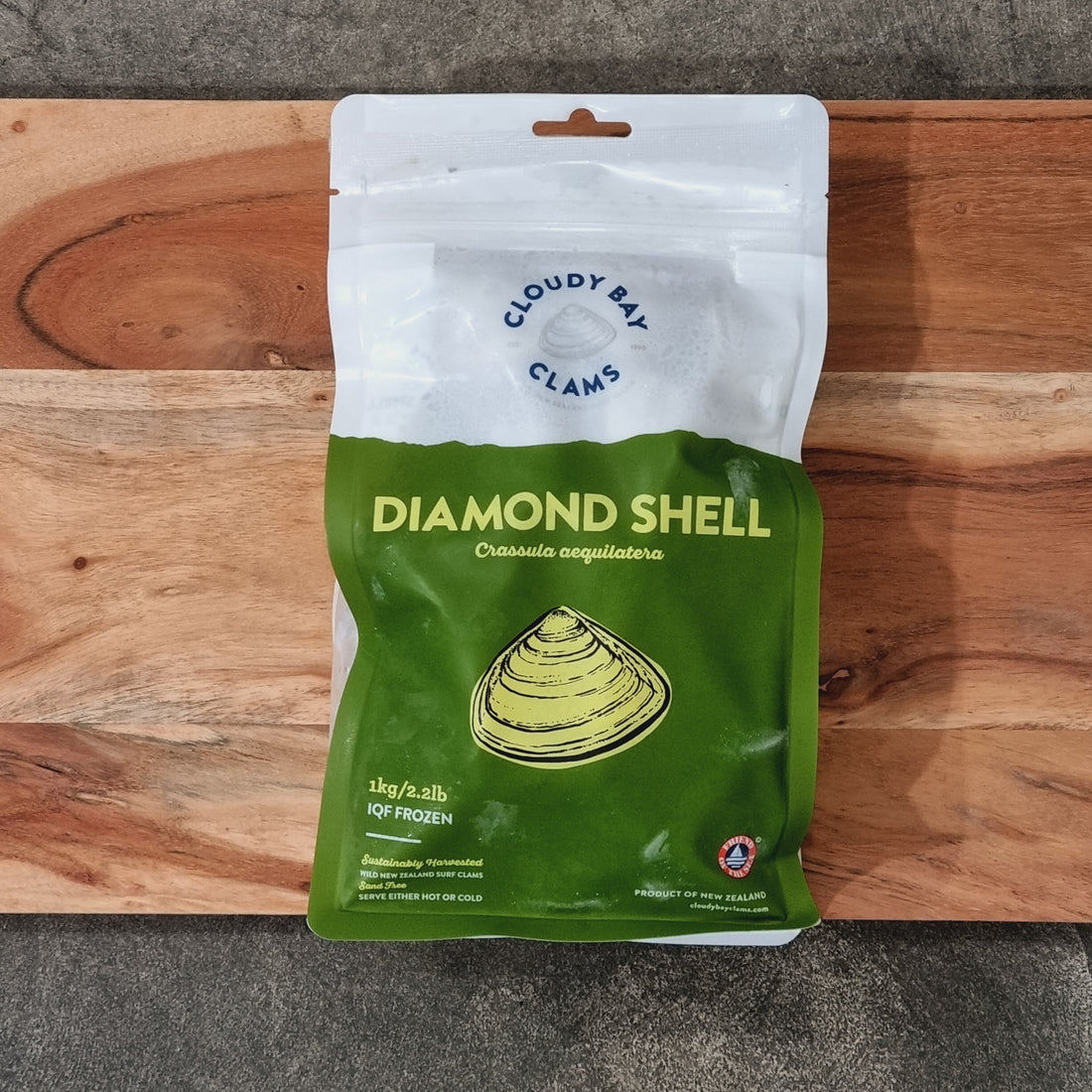 Frozen NZ Diamond Clams Whole
FROZEN NZ DIAMOND SHELL CLAMS WHOLE
- Approx. 28-32 pieces per kg (medium)
- 1kg packet
- Individually Quick Frozen 
New Zealand Diamond Shell Clams are characterised by their sweet, fresh sea spray aroma and clean 'wild ocean' flavour.  When cooked, the clam exhibits a fresh, fragrant scent of seaweed, with a rich, buttery flavour and a discreet nutty aftertaste.
Diamond Shell Clams are harvested from the 3-5 metre surf zone and are naturally full of plump meat.  The Diamond Shell clam has a beige coloured shell with a rich, deep coloured meat and white tongue.  With a mild, sweet ocean flavours and crisp texture, the Diamond Shell is great for a broad range of preparations.
Nationwide Delivery is available Tuesday-Friday. We do not offer post office box or Saturday deliveries.
Christchurch - $10.00 per delivery
South Island - $15.00 per delivery
North Island - $21.00 per delivery
Rural Delivery - $5.00 addition per delivery
Orders received daily before 6am Monday to Thursday will be packed and dispatched the same day for delivery the following weekday.
Orders placed after 6am on Thursdays will be dispatched the following Monday.
Oceans North Seafood do not process orders on Friday, Saturday, or Sunday. Please note some products in our collection require a 2-weekday lead time as they are harvested/caught to order. This will be detailed in the product description of such products.
All orders are sent on an overnight service. You will be emailed a tracking number on the day of dispatch which we recommend tracking through http://trackandtrace.courierpost.co.nz/.
All parcels will be left by the courier unless you request 'signature required' at the order checkout. There will be an added fee of $1.00 for this service.
Delivery to Rural Post addresses may take up to 48 hours from dispatch. There will be an added fee of $5 for Rural Deliveries. Orders placed after 6am on any Wednesday will be held over to the following week to ensure a successful delivery prior to any weekend.
Returns and replacements are issued on a case-by-case basis. If your product arrives damaged, please send an email to orders@oceansnorth.co.nz or phone on (03) 348 1588. All quality issues must be reported no later than 48 hours after the time you have received delivery to validate claims.
We will require photographic evidence and/or a sample of the
damaged or spoiled product.