Mt Cook Alpine Salmon Soy Sauce Range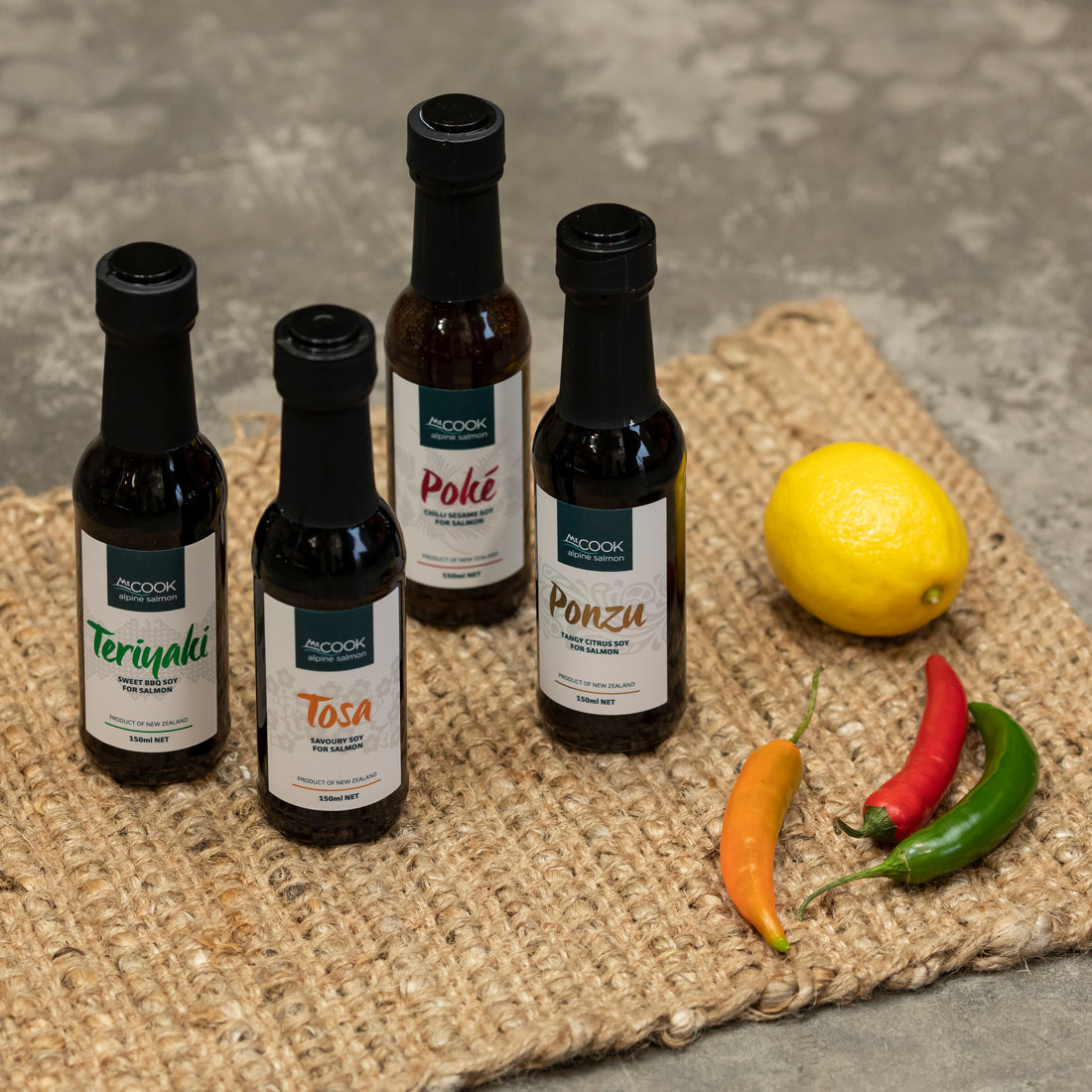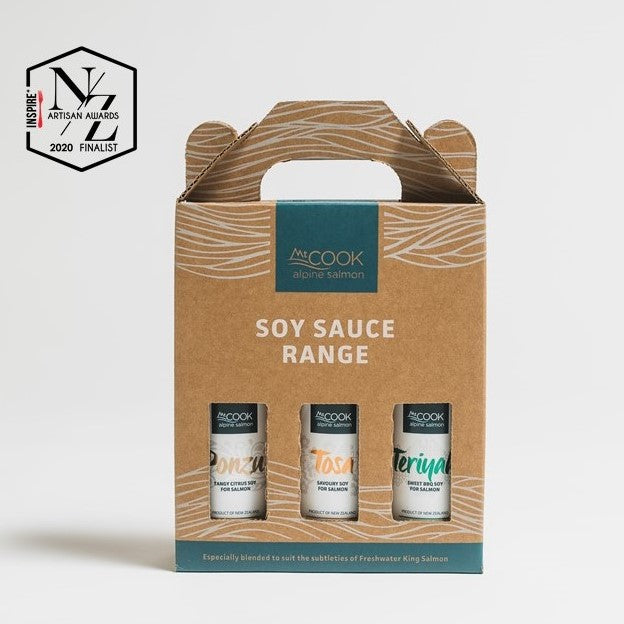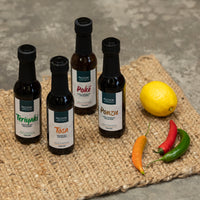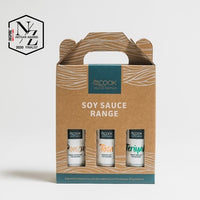 Mt Cook Alpine Salmon Soy Sauce Range
MT COOK ALPINE SALMON SOY SAUCE RANGE
- 1 x Tosa Sauce 150ml
- 1 x Ponzu Sauce 150ml
- 1 x Teriyaki Sauce 150ml
- 1 x Poke Sauce 150ml

Choose 3 of the above sauces specially made to complement the subtlety of New Zealand's finest freshwater salmon. (please specify which 3 in your order notes and these will come in the box pictured)

Tosa Sauce:- A fragrant and delicate Japanese style soy sauce. Inspired by traditional recipes from the province of Tosa on Shikoku Island. Its subtle taste is perfect for accompanying sashimi and sushi or can be used on grilled salmon.
Ponzu Sauce:- A tangy citrus soy sauce which is aromatic and refreshing. A light combination of yuzu, shoyu and dashi creates a finely balanced sauce. It will add some zest to salads, sushi or sashimi. It can also be used as a marinade or dressing for salmon and chicken.
Teriyaki Sauce:- A light sweet soy glaze used in the last stages of cooking. This version of a traditional sauce is enhanced with the addition of mirin and sake. It has a gentle character that is neither too sweet nor overly salty. Use on the BBQ or when grilling or stir-frying salmon, chicken or vegetables.
Poke Sauce: - A palate pleasing blend of chili and sesame, this soy sauce is inspired by the traditional Hawaiian sashimi sauce.  This spicy, savoury and sweet blend enhances the subtle clean taste of salmon and can also be used as a table sauce, dip or as a dressing for salads and noodle dishes.
Nationwide Delivery is available Tuesday-Friday. We do not offer post office box or Saturday deliveries.
Christchurch - $10.00 per delivery
South Island - $15.00 per delivery
North Island - $21.00 per delivery
Rural Delivery - $5.00 addition per delivery
Orders received daily before 6am Monday to Thursday will be packed and dispatched the same day for delivery the following weekday.
Orders placed after 6am on Thursdays will be dispatched the following Monday.
Oceans North Seafood do not process orders on Friday, Saturday, or Sunday. Please note some products in our collection require a 2-weekday lead time as they are harvested/caught to order. This will be detailed in the product description of such products.
All orders are sent on an overnight service. You will be emailed a tracking number on the day of dispatch which we recommend tracking through http://trackandtrace.courierpost.co.nz/.
All parcels will be left by the courier unless you request 'signature required' at the order checkout. There will be an added fee of $1.00 for this service.
Delivery to Rural Post addresses may take up to 48 hours from dispatch. There will be an added fee of $5 for Rural Deliveries. Orders placed after 6am on any Wednesday will be held over to the following week to ensure a successful delivery prior to any weekend.
Returns and replacements are issued on a case-by-case basis. If your product arrives damaged, please send an email to orders@oceansnorth.co.nz or phone on (03) 348 1588. All quality issues must be reported no later than 48 hours after the time you have received delivery to validate claims.
We will require photographic evidence and/or a sample of the
damaged or spoiled product.